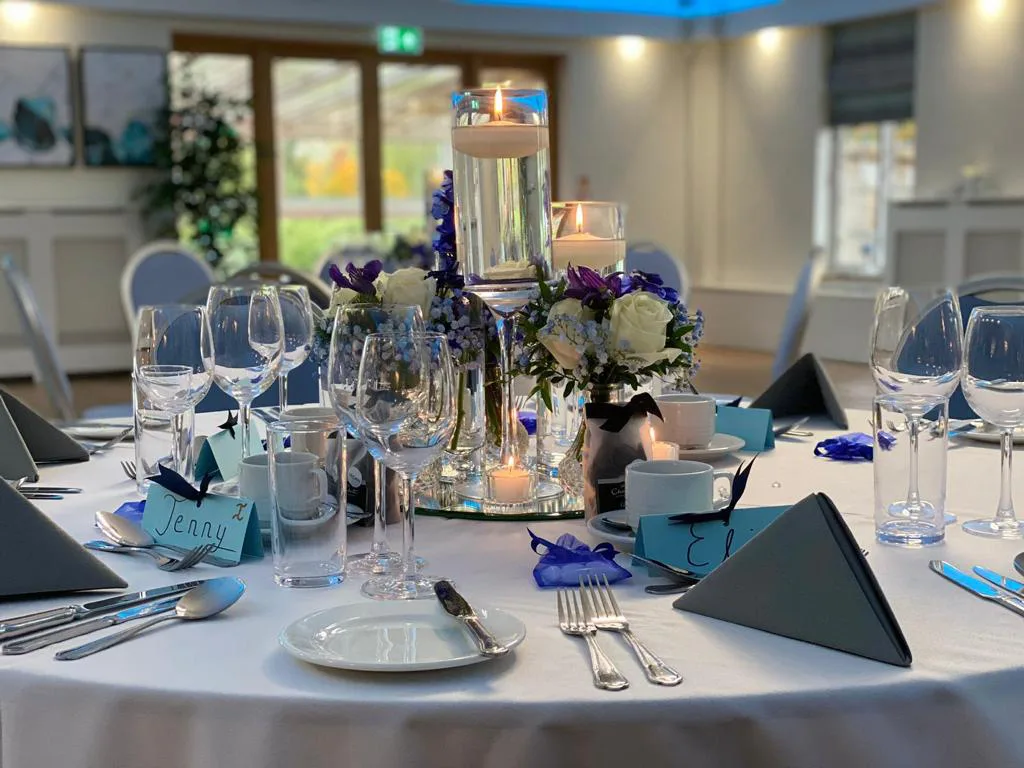 With its stunning views over the golf course, attentive service and many years of experience in hosting events Aldenham Golf & Country Club, recently refurbished, is your perfect venue.
The experienced clubhouse team will ensure your event runs smoothly, leaving you to enjoy the day.
Our seasonal menus give you a great choice of dishes designed and created by our kitchen team under the guidance of our talented head chef. On request we can create bespoke menus, and any special requests of dietary requirements can be accommodate given sufficient notice.
Don't just take our word for it though. See what some of our customers have said about us.
Our wedding was an intimate affair, and Aldenham Golf & Country Club provided the perfect setting on our special day. The picturesque gardens and elegant reception hall were exactly what we envisioned. The staff took care of everything with great attention to detail, allowing us to relax and enjoy every moment of our wedding celebration. Thank you for making it a day we'll cherish forever!
We had the most wonderful party and cannot thank you enough for your help, advice and organisation which allowed the event to run without a hitch. We would not hesitate to recommend the venue for any celebration. I am now trying to think of a reason to plan another one!
I would just like to thank you and all the staff at Aldenham for making my Grandmothers birthday such a great day. We could not fault it at all. The service was great and the food was amazing.
The stunning location and excellent service made my birthday celebration truly memorable. Thank you, Aldenham Golf & Country Club!
I hosted my birthday party at Aldenham Golf & Country Club, and it was a blast! The staff went above and beyond to make my day special.
Our child's Christening at Aldenham Golf & Country Club was truly magical. The venue, the service, and the attention to detail exceeded our expectations.
Celebrate your special day with an unforgettable birthday party at Aldenham Golf & Country Club. Our expert team will ensure a memorable experience for you and your guests. With our picturesque setting, exceptional services, and a dedicated team, your birthday celebration is guaranteed to be an unforgettable experience.
Whether it's an intimate gathering or a grand bash, our facilities cater to all your needs. Remember, life's special moments deserve the perfect setting – Aldenham Golf & Country Club awaits you!
Unforgettable Birthday Parties
Make your child's Christening a truly memorable event at Aldenham Golf & Country Club. With breath-taking surroundings, expert event planning, and exceptional service, our venue is the perfect place to celebrate this special occasion.
Surrounded by scenic beauty and equipped with outstanding facilities, our club is the ideal destination. Our experienced team will ensure that your child's Christening is nothing short of perfect.
Coming to terms with the loss of a loved one is something we all experience at some stage in our lives.
We pride ourselves on providing a peaceful and tranquil setting with a professional and friendly service.
Let our team take care of you.
Celebrate the Life of Your Loved One
Bar Mitzvahs & Bat Mitzvahs
Celebrate this special milestone in your child's life with a meaningful Bar or Bat Mitzvah at Aldenham Golf & Country Club. With elegant function space, expert event planning and delicious catering options or the option for dry hire, we ensure an unforgettable celebration for your family and guests and are dedicated to creating a memorable event that reflects your family's values and traditions.
With our picturesque surroundings and attentive service, your child's big day will be a cherished moment for all. Embrace the joy of tradition and togetherness as you honour this significant milestone.
Elevate your special event with a spectacular gala dinner at Aldenham Golf & Country Club. Our elegant venue, gourmet catering and attentive service ensure an unforgettable evening of sophistication and celebration.
From corporate celebrations to charity fundraisers and award ceremonies, your gala dinner will be an evening of elegance and brilliance.
Anniversaries & Engagements
Create cherished memories with a romantic anniversary or engagement celebration at Aldenham Golf & Country Club. Our idyllic venue sets the stage for an intimate experience that will forever hold a special place in your hearts.
Whether you're celebrating years of togetherness or the beginning of a new journey, the club is here to create an enchanting event just for you.
Enjoy the warmth of our hospitality as you celebrate your love and commitment.
Our versatile function rooms, delectable catering and dedicated bar service make us the ideal choice for a rewarding sports club celebration. 
We invite you and your teams to celebrate their achievements and camaraderie with a memorable dinner. 
Whether it's a victory celebration, end-of-season banquet or team-building event, Aldenham Golf & Country Club is the perfect setting in which to raise a toast to your achievements.
Host your school prom at Aldenham Golf & Country Club and celebrate the end of an era in style.
Our experienced team of coordinators will guide you every step of the way, for hassle-free planning and a fantastic event!